How Docktech established itself in Brazil through CMH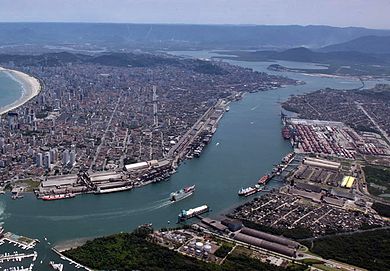 Docktech tells how the work of the country manager in Brazil reached internal processes and operations in other countries
Creator of an innovative port monitoring system, Docktech had the support of Country Manager Hub to set up its operations in Brazil. The company was one of those selected by Apex to participate in the Scaleup in Brazil program, "We had the first contact with the Country Manager Hub (CMH) in the project and we actually saw the higher level of quality, so we decided to go with them when the program ended ", says Assif Hassin, COO of Docktech.
When internationalizing to a country with continental dimensions like Brazil, it is important to know exactly where to focus, without wasting time and money until you get it right. In this sense, a country manager who already knows the market strategically is an important support in the structuring period.
In addition to strategic supervision, the company highlights the assistance in translating all documents and communication, deals with the bureaucracy of working with ports and the taxation system. "The Country Manager Hub first helped us by connecting us with experts so we could organize business assessments, that was essential and we got really good advice," he recalls.
Another crucial point, according to Assif, is the confidence that customers feel when negotiating with a CMH country manager.
"It's different when we present ourselves with the help of CMH, which has people who speak native Portuguese and which is already recognized in the country as a reference company", he highlights.
But the changes didn't stop there. They also reached internal teams and even had repercussions on operations in other countries. "We really learned how to ask the right questions and position ourselves in front of our customers in interviews. Also, CMH helped us to organize our sales process. Our sales cycle had no process and was not so organized, and it has changed. If we consider that we have a good operation in the country, managing to pass on value to investors, it is because of the work of the Country Manager Hub", adds Assif.
"Helping an Israeli company navigate Brazilian territory is really a challenge, even more in the port sector. But having a local Country Manager made a lot of difference. Helping companies in the structuring process and making operations viable in Brazil means being able to help build a global business" – Raquel Kibrit, CEO of Sterna
What can you learn from this case?
Hiring someone local in the target market helps the international company accelerate its knowledge of the country it wants to enter. It is essential that the person hired knows the business area very well. In this case, it was the port sector, with its very peculiar culture. It is essential that you have people on your team who know how to navigate this market.
About DockTech
DockTech is an Israeli startup that develops a Digital Twin on the waterways for ports and rivers in order to optimize cargo movement, reduce maintenance costs and increase the safety of navigation.